Riverside Armed Robbery Defense Attorney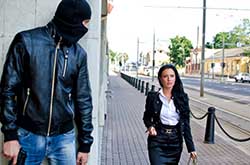 Armed robbery is a serious criminal charge. All robberies are charged as a felony offenses. Armed robbery can often result in significant jail or state prison time. If you are convicted of committing a robbery with a gun, you also face the possibility of an additional prison sentence from 10 to 25 years. That is very serious indeed!
Because 'armed robbery' involves some sort of weapon, the crime is treated more seriously. Because of societal pressure on legislators who enact California laws, the penalties are severe. When a gun is added to what would otherwise charged as 'ordinary theft,' you can be looking at decades in state prison if convicted. Surprising to many of my clients, this is true even if no one was hurt during the robbery.
If you are convicted of armed robbery, that will result in having a violent felony on your criminal record. Because of that, you will likely find it difficult to get any decent job when you are finally released from state prison. It is essential that you hire an experienced armed robbery defense attorney to fight from being convicted when at all possible.
Former prosecutor from the Riverside County District Attorney's office Joseph W. Galasso, Esq. was part of a team of government prosecutors whose job was to prosecute misdemeanor and felony cases in the Juvenile, District and Superior Courts.
Now, armed with that inside knowledge of how the DA and the prosecutors work behind the scenes, attorney Galasso is defend those being targeted by Law Enforcement and prosecuted by District Attorneys.
.
---
What is Robbery?
In Riverside County specifically and California in general, a robbery is said to have happened when a person takes the personal property of another person by the use of fear or actual force. To be charged with a robbery, the alleged defendant must take the property directly from the alleged victim.
Armed robbery cases generally fall into three categories:
Stranger stick-up cases.
Bank or retail store robberies where someone displays (or mentions) a weapon. In California, you do not have to actually have a weapon to be charged with armed robbery. All you have to do is mention that you have a weapon, whether you actually have one or not.
Robbery in a home, which is charged as "Armed Home Invasion Robbery."
---
First-Degree Robbery / Second-Degree Robbery
Robbery charges may be filed two ways: as first-degree robbery or filed as second-degree robbery. The maximum prison sentence for first-degree robbery is 6 to 9 years. The maximum prison sentence for second-degree robbery is 5-years. In California, robbery is a serious felony and is considered a "strike offense," which means that you will face significantly increased penalties if you are ever convicted of another subsequent felony at some future time.
Defending Armed Robbery Charges in Riverside, California
Considering these serious potential prison penalties associated with an armed robbery conviction, choosing the right Riverside criminal defense attorney is critical.
Joseph Galasso, a former Deputy District Attorney (a prosecutor), has the experience and skills to examine the strengths and weaknesses of an armed robbery criminal case, and use his skills to get your case dismissed or reduced to lesser charges so as to downgrade the potential consequences of the criminal charges facing you. If necessary, he will prepare and bring a strong defense to trial.
---
Enhanced Penalties for Using a Gun
In addition to any prison time you may be required to serve for a first or second-degree robbery conviction, you may be sentenced to a prison term of 10 to 25 years for the separate offense of using a weapon in the commission of a crime. In California, the use of a firearm in the commission of a crime may result in the following penalties:
A 10-year prison sentence for use of a firearm in the commission of a crime.
A 20-year prison sentence if you discharged the firearm.
A 25-years-to-life prison sentence if you killed another person or caused serious bodily harm.
---
Possible Armed Robbery Defenses
It is not uncommon that a person is unjustly convicted of armed robbery based on faulty eye-witness identification in a police line-up. There are many defenses that a skilled and experienced Riverside County criminal defense lawyer can use to help you fight your armed robbery charges. Joseph Galasso has real world experience on BOTH sides of the table: Prosecution for years; and now defending those the prosecutor's office is trying to but behind bars.
Joseph Galasso has many resources including the thorough investigation of every aspect of a criminal case to determine the best possible strategies to use in your unique defense. We will personally work along side you to get your armed robbery charges dismissed or reduced through a negotiated plea arrangement or take your case to a jury trial, if necessary.
---
Call an Experienced Armed Robbery Defense Attorney
If you have been charged with Armed Robbery it is in your best interest to:
(1) – DO NOT voluntarily speak with the police, and
(2) – DO consult with a Riverside Criminal Defense attorney as soon as possible.
Call me, Joseph W. Galasso, a former Riverside Deputy District Attorney – and now a private Riverside Criminal defense attorney defending those accused and charged with crimes. I offer a NO cost, FREE consultation to see if we are a good fit.
Phone me 24/7 at (951) 225-4130.